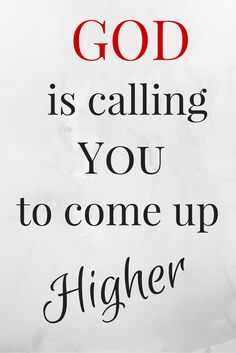 Go higher to hear clearer –part 1
Mathew 2:21"So Joseph got up, took the Child and His mother, and came into the land of Israel."
Well, before I delve into the message today, would like to ask you a few questions: how much of the Bible have you read last year, how much time have you spent each day with the Lord, have you set aside time last year for fasting and prayer? Think! These are the things that take you to a higher level with God from where you get a crystal-clear vision of what you have to do and what not to do – all haze would fade away here, this is called crystal-clear zone, anybody hearing me? John is invited to a higher dimension in order to get revelations: like the sound of a trumpet speaking with me, said, "Come up here, and I will show you what must take place after these things."(Revelations 4:1)
Let us pray like David: Teach me good discernment and knowledge, For I believe in Your commandments.(Psalm 119:66.) I watch people run in circles today for better jobs, higher payments with plethora of other benefits like medical insurance, LTA allowance, housing loans, car loans, personal loans, foreign assignments and what not! They aspire to go higher, higher…higher and higher and then crash! Don't get me wrong - all of the above are perishable! What is that angst for? Did you ever think of taking a job that would give you enough time to pray and read the Bible, a job that would not interfere with your worship time on Sundays, have you hunted for a job that would not grab your precious time with your family? Tell me. When things go downhill then we panic and rush to God in the last hour, why not make better decisions this year that would help you and your family? If you curb your unnecessary expenditure, unwanted purchases and extravagances then life would be more peaceful, are you listening?
While I was reading the book of Mathew today, I read the portion where Joseph is instructed by the angel in a dream to get up and go to Israel with the child (Jesus) and the mother, because the enemies have all vanished. Wow! Are they not clear instructions with no confusions? You get to hear angels speak in dreams and God walk with you only when you obey and walk with God like Joseph – in other words you got to go higher..and higher…and higher with God…isn't that wonderful? Stop being greedy, be content with what you have and this year make concrete decisions and efforts to get close to God and stay there!
God says in Isaiah 55:9
"As the heavens are higher than the earth,
so are my ways higher than your ways
and my thoughts than your thoughts.
Higher than me - part 2
Psalm 61:2"From the end of the earth I call to You when my heart is faint; Lead me to the rock that is higher than I."
There are demons in the lower level: haters, mockers, slanderers, dream-destroyers, lampooners, deceivers, betrayers; therefore, you got to get to a higher dimension with God in order to think, walk and live like Christ. Anybody listening?
Well, since the beginning of this year, God has been putting this thought in my mind to get higher with Him; however, I wonder how many understand this! People who are content with reckless, lazy, bland, insipid life with no vision or passion would not understand what I am trying to say but this message is for the ones who would want to live above the mediocrity level and get into excellency! As you strive to reach this supreme level, an army of demons are deployed to pour water on your vision but NONE can even touch your hair – say Amen. Hurray!
Wake up early to meet God, David said, "I will wake the dawn with my song."(Psalm 108:2) Look at that! He says that he would awaken the dawn, isn't that wonderful? Such should be your love for God, crucify your flesh to sleep more, eat more, play more, browse more…and wake up early to talk to God and read His Word. There are many out there hearing the sermons of other people for too long, that becomes entertainment sometimes, get revelations for yourself by reading the Bible yourself. You think He would ignore when you do that? NEVER. He would pour out His blessings on you, we lack because we reject God. God is looking for your works!
Sundays may be time for lazily tossing on the bed or meandering the city for exotic food for many but in my life, I have to supervise the food for the Abide Angel Home and the children who attend our church on Sunday, food is served early in the morning before the church starts at 8.30 am. This is no cute and quiet atmosphere; water is spilled, food is dropped by the children – leftovers are cleaned and the place is tidied for the church service. Mayhem! No escape. Let me pause and say something profound for you to think over: you cannot get to possess bigger places if have not you served in smaller places! Anybody listening? There were people who had to serve in the kitchens before getting the mike to preach. The 'Principal position' of a government recognition school could not have happened for me, if I had not taught rag pickers during the initial stages of my ministry. Some of us prefer to skip stages and arrive soon, isn't it?
You know what, our vision and dream should be so vast that should scare others and you; only then would we depend on God to fulfill it!
Visions in the higher level – hole in the wall! – Part 3
Ezekiel 8:3"He stretched out the form of a hand and caught me by a lock of my head; and the Spirit lifted me up between earth and heaven and brought me in the visions of God to Jerusalem, to the entrance of the north gate of the inner court, where the seat of the idol of jealousy, which provokes to jealousy, was located."
As you pursue God and move higher and higher, God now opens doors for you, these are doors of visions, it is not exciting though; sometimes you get to see something that scares you! Just few days back, I woke up very early in wee hours and spent quiet time with God and after couple of hours, I was exhausted, so I just rested my head for a nap. BANG – I had a clear dream of a very close relative who had a very close call with death, a huge lorry came towards his head, I sat there watching that scene helplessly, just few minutes back he was speaking nicely to me (in the dream) and then came the lorry charging towards him. I instantly knew that this was pre- warning for whatever would happen to him in future, since he was not saved , I started praying for his salvation and also warned his wife to pray hard for him. God speaks to us through dreams and visions when we get intimate with Him and also these are signs of revival, did not Lord promise: (Joel 2:28) I will pour out My Spirit on all mankind; And your sons and daughters will prophesy, Your old men will dream dreams, Your young men will see visions. 29 "Even on the male and female servants I will pour out My Spirit in those days."
Visions and dreams have to be carefully discerned because the devil also can deceive and con people with false dreams and visions. I know of many women who claim themselves to be godly and deceive people with demonic dreams, caveat! Do not blindly accept prophesies and revelations, listen but pray about it and also check out the life of the person who claims to have visions and dreams. In the above scripture, we find God lifting prophet Ezekiel between earth and heaven, did you see that? Well, this is no bungee-jump where you dangle in the air, this experience is given for the prophet because of his faithfulness and also to show him something deeper which he cannot see from the ground level. Now, I am also going to take you deeper and show you a glimpse of what all God will show when you climb higher with him.
God brings Ezekiel to a 'hole in the wall' and shows him through it the abominations the ELDERS were committing inside the Holy sanctuary: "Son of man, do you see what the elders of the house of Israel are committing in the dark (verse 12)" People who are weak in prayer and reading of the Word are unable to discern the wicked things that is happening inside the church: adultery between choir members, lust in the youth team, fornication in the pulpit, division in the Sunday school and much more…one particular pastor had brought his girlfriend inside a room in the church and kept her there while he preacher in the pulpit with fire (don't believe every noise) the snake had crept right inside the holy place. (Every bit I had said are from my own experiences these several years, I'm sharing a few because people who read my devotions should get alerted and educated about this) You might say, 'Ah terrible'; however, we live in dark, last days, so if you need light, get into the Bible.
Look at the confidence of David when he said in Psalm 119:
99"I have more insight than all my teachers, For Your testimonies are my meditation.
100 I understand more than the aged, Because I have observed Your precepts.
101 I have restrained my feet from every evil way, That I may keep Your word.
Without reading the Bible, you are as good as blind!