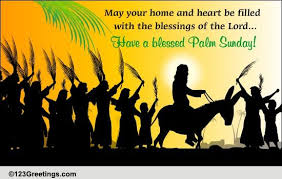 PAIN PRODUCES POWER
John 12:13"..they took the branches of the palm trees and went out to meet Him, and began to shout, "Hosanna! Blessed is He who comes in the name of the Lord, even the King of Israel."
Look at the BIG PICTURE IN YOUR LIFE:
The miracle that happened in John chapter 11, raising of Lazarus from the grave was not just for the family of Lazarus but it was for a greater purpose. Isaiah 55:9 "As the heavens are higher than the earth, so are my ways higher than your way and my thoughts than your thoughts." Actually this sermon was directed towards me, ( I have to say this) and God spoke some powerful truths that I share with you on this Palm Sunday:
The beloved body of Lazarus had to stink for 4 days so that the aroma of Christ could fill that area. Anybody listening please? We need to be squeezed and crushed at times, so that the juice would be of great blessing for people. Pain produces power! Are you listening? Look at the extreme love of God through this and not otherwise please. When the father, a senior pastor was admitted in a serious condition in the hospital, as he was battling for life, his two sons had to run the church and preach on all the Sundays. Both the brothers took turns to preach but let me tell you, their words and revelations came out from a place of pain but the body of Christ was blessed, not just their church but the thousands who watched on plethora of social media platforms were blessed immensely ( I am one of them) Therefore the death and raising of Lazarus after 4 days was pristinely planned with perfection:
Through this the disciples would also grow in faith because Jesus said: I am glad for your sakes that I was not there, so that you may believe; but let us go to him."(verse John 11:15)
Bethany was near Jerusalem, about two miles off;
Jews who came to see Mary and Martha, got the opportunity to see the miracle first hand and believe
the Passover of the Jews was near, and many went up to Jerusalem out of the country before the Passover to purify themselves.(verse 55)
Greeks Seek Jesus
20 Now there were some Greeks among those who were going up to worship at the feast;
21 these then came to Philip, who was from Bethsaida of Galilee, and began to ask him, saying, "Sir, we wish to see Jesus."
This miracle was timed so that large number of people will hear of the miracle and believe in Jesus.
Sometimes we take things too personally without comprehending the bigger picture of God's plan, that is exactly how Mary and Martha felt when their beloved brother Lazarus died, they thought 'why did Jesus delay in coming to Bethany, if only He had come earlier Lazarus would not have died.' Don't we feel the same way? Why do you delay Lord? Why is my marriage delayed, birth of baby delayed, and so on; however, God does things perfectly on time and also from the perspective of salvation and transformation. God's heart was in saving the enormous lives of people who would hear of the raising of Lazarus from dead.
After this miracle when Jesus entered Jerusalem on a donkey, there was excitement in the air, royal welcome was given to Jesus, people began to shout, "Hosanna! Blessed is He who comes in the name of the Lord, even the King of Israel." Most important than all this was the testimony of Lazarus bring raised from the dead that was being spoken in the crowd, read:
17 So the people, who were with Him when He called Lazarus out of the tomb and raised him from the dead, continued to testify about Him.
18 For this reason also the people went and met Him, because they heard that He had performed this sign.
DEEPER CALL:
Jesus did not leave them without actually giving them a deeper call, there were mixed crowd:
Casual onlookers
Curious people
Common man
Jesus wanted to take them to true commitment, He said:
24 "Truly, truly, I say to you, unless a grain of wheat falls into the earth and dies, it remains alone; but if it dies, it bears much fruit.
25 "He who loves his life loses it, and he who hates his life in this world will keep it to life eternal.
26 "If anyone serves Me, he must follow Me; and where I am, there My servant will be also; if anyone serves Me, the Father will honor him.
Everything happened not just for celebration, noise and applause but it was a call to:
COME TO HIM, FOLLOW HIM AND SERVE HIM IN TRUTH.
Most of the Christians would take a branch of palm leaf in their hands after Palm Sunday service and straight go either to a restaurant, shopping or sit in front of the TV to watch movies because it was a holiday. The whole truth is lost in the air……
I lived several years as a dead Christian until the birth of my second son Joshua in the year 2000 that actually brought me to death bed, I received miraculous healing from the Lord, and my life was never the same again. I resigned my job with a multinational bank, to join the Lord's vineyard as full time servant. Blessed Palm Sunday! God bless you!