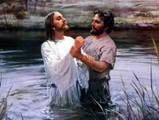 Going into the water and coming out... IMMERSION WATER BAPTISM!
Romans 6:3-5 "Or don't you know that all of us who were baptized into Christ Jesus were baptized into his death? 4 We were therefore buried with him THROUGH BAPTISM into death in order that, just as Christ was raised from the dead through the glory of the Father, we too may live a new life. 5 If we have been united with him like this in his death, we will certainly also be united with him in his resurrection."
Have you entered into the homes of the "to be" bride and bridegroom? Oh, they would be discussing elaborately of all that has to be done. 'My family does it this way' says one, 'my grandparents did it this way' says another, sometimes there are misunderstandings over petty things. Details are sorted out so that there are no confusion. But have you realized the most important identification of our union with Christ, which is WATER BAPTISM is totally ignored. Many are not bothered to know more about it. Roman Catholics believe in infant baptism, protestants believe in baptism with sprinkling of water, all these are not Biblical, though; it is again undertaken out of customs, old traditions and to appease the elders of the family who are insisting upon it . But let us just look at the most important command of God, Mathew 28:19 Go ye therefore, and teach all nations, baptizing them in the name of the Father, and of the Son, and of the Holy Ghost: 20 Teaching them to observe all things whatsoever I have commanded you: and, lo, I am with you always, even unto the end of the world. Amen.
Bible commentator Finis Jennings Dake says like this, "Baptizo" is derived from bapto, the root word for baptism means to dip, dip under, sink means to immerse, to submerge and to cover wholly with water. Just read this, Mathew 3:16 "And Jesus, when he was baptized, went up straightway out of the water".
Both Philip and the eunuch went into the water and came out, just read this scripture, Acts 8:38 And he commanded the chariot to stand still: and they went down both into the water, both Philip and the eunuch; and he baptized him.
Jesus Commanded this type of baptism for those who believe (Matt. 28:18-20).
Peter Commanded it at Pentecost (Acts 2:38).
Every time believers were baptized in the book of Acts, this is how it was done (Acts 2:41; 8:12,38; 9:18; 10:48; 16:33).
It pictures death, burial and resurrection. Please read the above mentioned scriptures and understand that immersion baptism is biblical and the Bible commands us to take IMMERSION BAPTISM and we are asked to repent and then be baptized. Acts 2: 38 Peter replied, "Repent and be baptized, every one of you, in the name of Jesus Christ for the forgiveness of your sins. And you will receive the gift of the Holy Spirit. 39 The promise is for you and your children and for all who are far off -- for all whom the Lord our God will call". During infant baptism, the infant cannot repent and it is very sad to notice small children partaking in the holy communion without understanding the actual meaning of communion and many do it as part of rituals and traditions. The Bible says in Hosea 4:6 "my people are destroyed from lack of knowledge". This message is not to offend anybody but to highlight the real meaning of baptism. The message of BAPTISM is either chuckled and ignored or considered as wrong doctrine. But friend, we need to follow this first step of obedience with child like faith since the Bible commands us to do so. This act of purposeful disobedience hinders blessings to flow into our life. Baptism which is done by sprinkling of water is also not the proper way, the Bible talks about getting into the water and coming out.
It is a public identification with the sacrifice that Jesus made on the cross. We are identified as becoming united with Jesus. If we have been united with him like this in his death, we will certainly also be united with him in his resurrection. Notice Paul's words, "Baptized into Christ". This denotes the fact that we are in union with Christ. When the husband and wife are united at the marriage altar, they become "One flesh". When we are baptized, we become one with the Savior. Baptism identifies us with Christ as the wedding identifies the bride with her groom. Hallelujah! Now do you understand how important it is to take water baptism?
Baptism is a beautiful picture. It is a witness. It is Powerful. Today you have seen what baptism really means. Are you a Christian? Have you followed the Lord in this beautiful ordinance? If not, why not come and request baptism? You need to go into the water and come out as a new creation. Take your stand openly with Jesus in the waters of Believer's Baptism. Christian, are you living what you professed at the time of your baptism? Why not commit to living in the newness of life that you have received in Christ?